Deformed socket: TwistVolt
Author:Esway
Source:www.eswaychina.com
Release on :2017-05-23
Deformed socket: TwistVolt
TwistVolt, it has a super deformation ability, no matter what kind of complex space, we always can find a suitable angle, to accommodate all plug.
The structure is similar to a toy, this socket consists of eight prism-shaped sub-socket connected, and each sub-socket, have four directions of rotation, so that the eight sockets, total of 16384 possible, enough to cope with any situation. In addition,Its function also very strong, total of six three-hole socket, and eight USB charging port, the total output current can be as high as 5A, you can charge eight phones.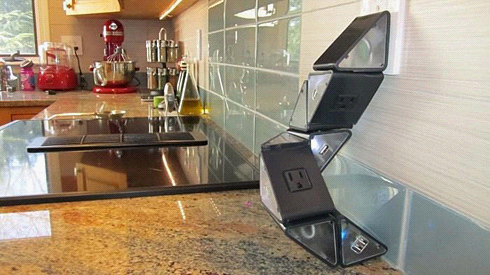 If you also like Novelty product,Click to view our spy hidden camera details.
1080P WiFi Nanny Clock IR Night Video Camera With Motion Detection Function
1080P USB Wall Charger Motion Detection Hidden Camera
1080P Spy Pen Camera DVR,can write,can record
1080P Sport Wearable Bracelet Portable Spy Wristband Hidden Camera
Welcome to view our website:www.eswaychina.com to know more.
Wholesale please send inquiry:here