Can be folded Solar Bicycle : Solar Man
Author:Esway
Source:www.eswaychina.com
Release on :2017-04-13
Can be folded Solar Bicycle : Solar Man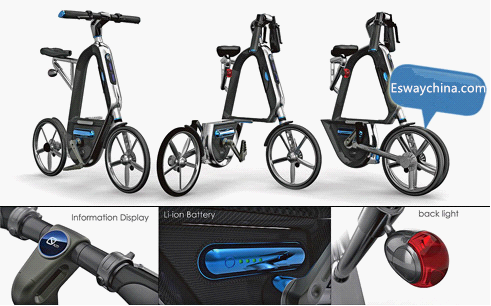 This is Taiwan designers Weiping Chen's Solar bicycle (Solar Man) : it can convert Solar energy into electricity, then supply motor power, and built-in lithium battery to reserve excess power, at the time of temporarily without the sun, it also can continue to work, even when no electricity also can connect the civilian power grid to charge.
Vehicle weighs just 12 kilograms, the surface through special processing, never rust, and USES the folding design, convenient to carry.
Environmental protection, reduce carbon emissions.
If you don't want to use gasoline again, replace your traffic tools,you can take follow models,Click to view details.
Carbon fiber electric folding scooter
ET Mini Q remove battery folding electric bike
E5 Esrover citycoco electric motorcycle 60V/48V,also have remove battery version
Welcome to view our website:www.eswaychina.com to know Chinese electric transport tool manufacturer
Wholesale please send inquiry:here